food, diaspora, + my big fat greek wedding
recipes: shorbat adas / red lentil soup + roz b (coconut) haleeb
Hey friends!
Last month, shortly after I published the first newsletter, I was watching My Big Fat Greek Wedding and I came across a classic scene that felt pertinent, and that I've always loved:
My Big Fat Greek Wedding has always been a favorite movie of mine in part, I think, because the Greek-American experience portrayed here bears an awful lot of similarity to certain Arab-American experiences, and the comedy of it feels personally resonant. This scene is particularly resonant, I think, to those of us who have ever tried to explain to an auntie or two that we're vegetarian (or, god forbid, vegan). And how many of us have also had to follow up to say that no, we also don't eat chicken or fish?
While I think this scene is really funny, I also realize that the experience is a lot more complicated than this, and it can be especially challenging when you have to explain this to your own community, not just as an outsider coming in. The last time I travelled to the Sham in 2014, I felt that it was easier to try to be flexible, to pick around meat in dishes or just try my best to find vegetarian dishes. But now I probably wouldn't do that for a variety of reasons. It's not just in the homeland that we find ourselves in these complicated community food relationships, though, and that's what I want to talk about more.
Last letter, I touched on the way the diaspora tends to focus on meat as a really essential traditional component of food, and how this probably isn't historically accurate. But I also think it's important to acknowledge that traditional food is a really central part of diaspora culture and identity construction. We've all seen the six million tweets by diaspora kids talking about being bullied for having weird-smelling lunch (and might I add, My Big Fat Greek Wedding made this joke first), and we've probably all clowned them a little bit for this. But why are diaspora kids so obsessed with food, both as a focus of cultural connection and cultural ostracism?
After talking to friend, Palestinian poet, and Person Who Has Thoughts About Food, Summer (@summabis on Twitter), we reached a couple of fairly reasonable conclusions. Firstly, food is a relatively easily accessed and widespread piece of culture (unlike, say, traditional crafts which may only be produced by a few artisans, or language, which can easily be lost in a country which does not speak it), and so it is an easy thing to bring into diaspora homes. It may have been the only or most prominent piece of diaspora culture someone experienced growing up, and so we graft a lot of feelings about identity onto our relationship with food. This is not always a neutral act, but that's a lot to get into.
Another thought that Summer mentioned to me is that food serves really easily as a symbol of nationalism, and food can also take on a spiritual or sacred quality. This is perhaps most obvious when thinking about Palestinian national symbols, such as olives and Yaffa oranges, but it also explains why, when Gigi Hadid said her favorite Palestinian food was tabbouleh there were a thousand and one Phoenician reply guys saying "actually, tabbouleh is Lebanese."
While the relationship between food and diaspora nationalisms is not inherently harmful, I think it often feeds into some very rigid ideas about food, tradition, and culture. Something that I set out to do with this newsletter, and a practice that I've tried to engage in for a while now, is really interrogating my relationship to food-as-culture and how that fits into harmful ideas that we are taught about food as having positive or negative value. For me, in attempting to dismantle ideas which promoted disordered eating habits, it has also been important to dismantle the authentic/inauthentic = good/bad relationship to SWANA food that I previously had.
Summer also sent me an article about food symbolism in the writing of Naomi Shihab Nye and Diana Abu-Jabar which highlights the role of food as a sacred and national symbol. The authors write:
"Food is a natural repository for memory and tradition and reveals the possibility for imagining blended identities and tradition"

-Mercer and Strom, "Counter Narratives: Cooking Up Stories of Love and Loss in Naomi Shihab Nye's Poetry and Diana Abu-Jaber's Crescent, 33
This quote feels important to reflect on. How can food be a site of blending? Can we be more forgiving with our ideas of authenticity? How can we make food that feels special to us beyond just sticking to the word of the family recipe? Food will always be a living tradition, so how are we going to contribute to its life?
There are plenty of other books and articles which discuss different elements of the relationship between immigration and food. A newer book that I have not yet read, but an interested in, is The Immigrant-Food Nexus, which looks at dynamics between immigration and food from micro to macro levels. On a broader scale than simply the individual's relationship to food, we must always remember that food production and agriculture have always been central to migration patterns and changes in immigration law. Hungering for America by Hasia Diner, from which I have read excerpts, also highlights in the important relationship between starvation/scarcity of food, migration, and immigrant food development. In brief, Diner explores Jewish, Irish, and Italian immigrant relationships to food and emphasizes the centrality of past experiences of food deprivation to shaping cultural attitudes towards food.
There is much more that can (and will!) be said about the relationship between migration and food, but I think we should start by acknowledging that the relationship between food and culture in diaspora is not fixed and that our understanding of food and its importance will always extend beyond a personal history.
With that very long introduction (can you tell I miss academia sometimes), I present my recipes for this week: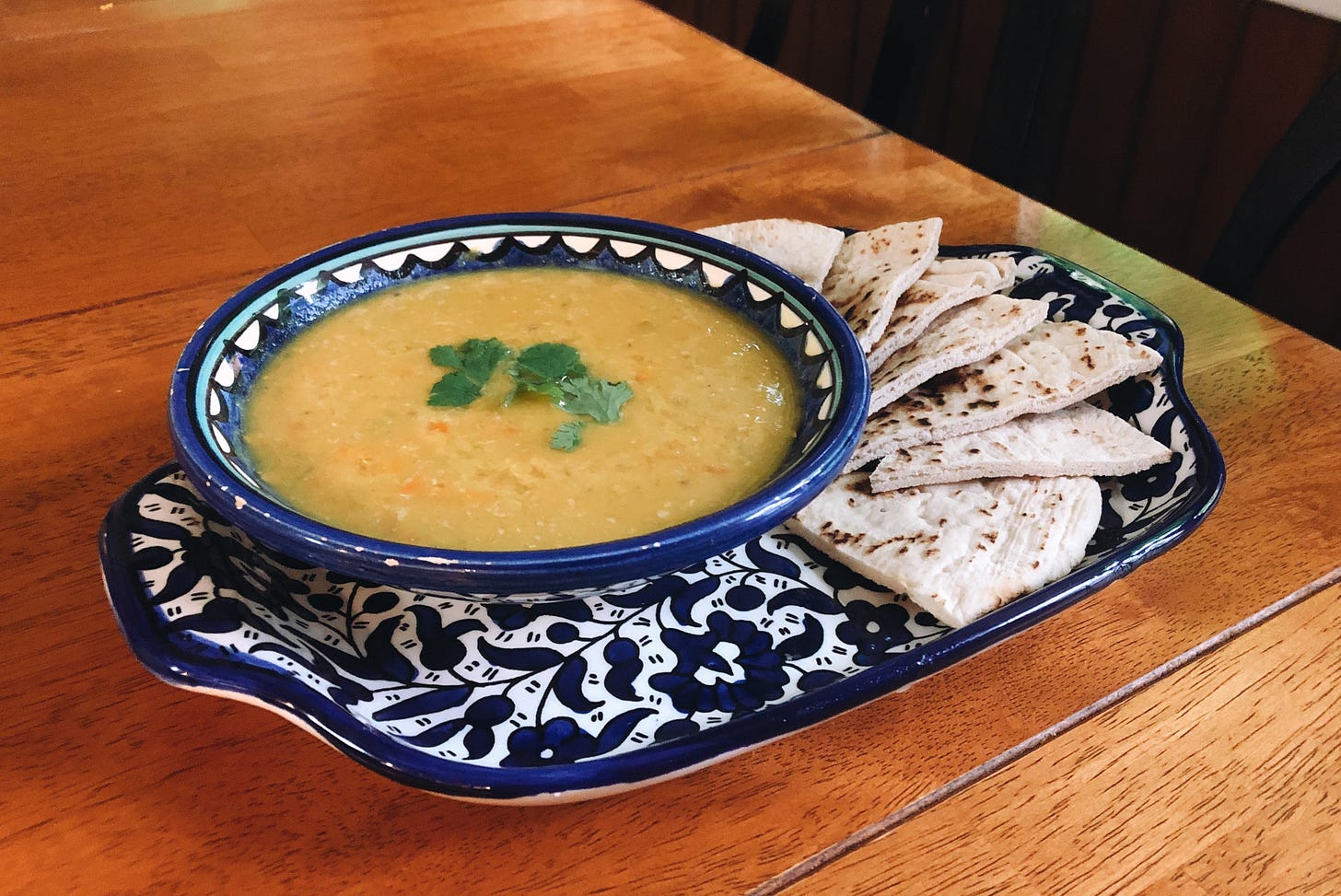 When I visited Beirut for the first time in 2014, I had the greatest shorbat adas of all time at t-marbouta cafe in Hamra, a place that was first described to me as a "feminist, Marxist cafe." They also have a super vegan friendly menu, so if I ever make it back to Beirut, you know where to find me. But since then, I've been trying to find a shorbat adas recipe that even remotely matches up to what you can find in Lebanon, and while I can't quite do it, this is as close as I've come.
This recipe is from Rehana Du Jour and it is next to perfect so I only have one modification and two notes:
Instead of 4c chicken broth + 2c water I use one full box of veggie stock + a little bit of water added to round it out at 5c liquid total

When I was making this a lot to meal prep in college I discovered that the pre-mixed Mirepoix from the grocery store works perfectly fine if you don't want to chop all the veggies yourself

I like a little bit of texture variation so I really like eating this with some pita chips sprinkled in (before you come for me, remember how we talked about dismantling authenticity binaries?) but it can also be good with khubz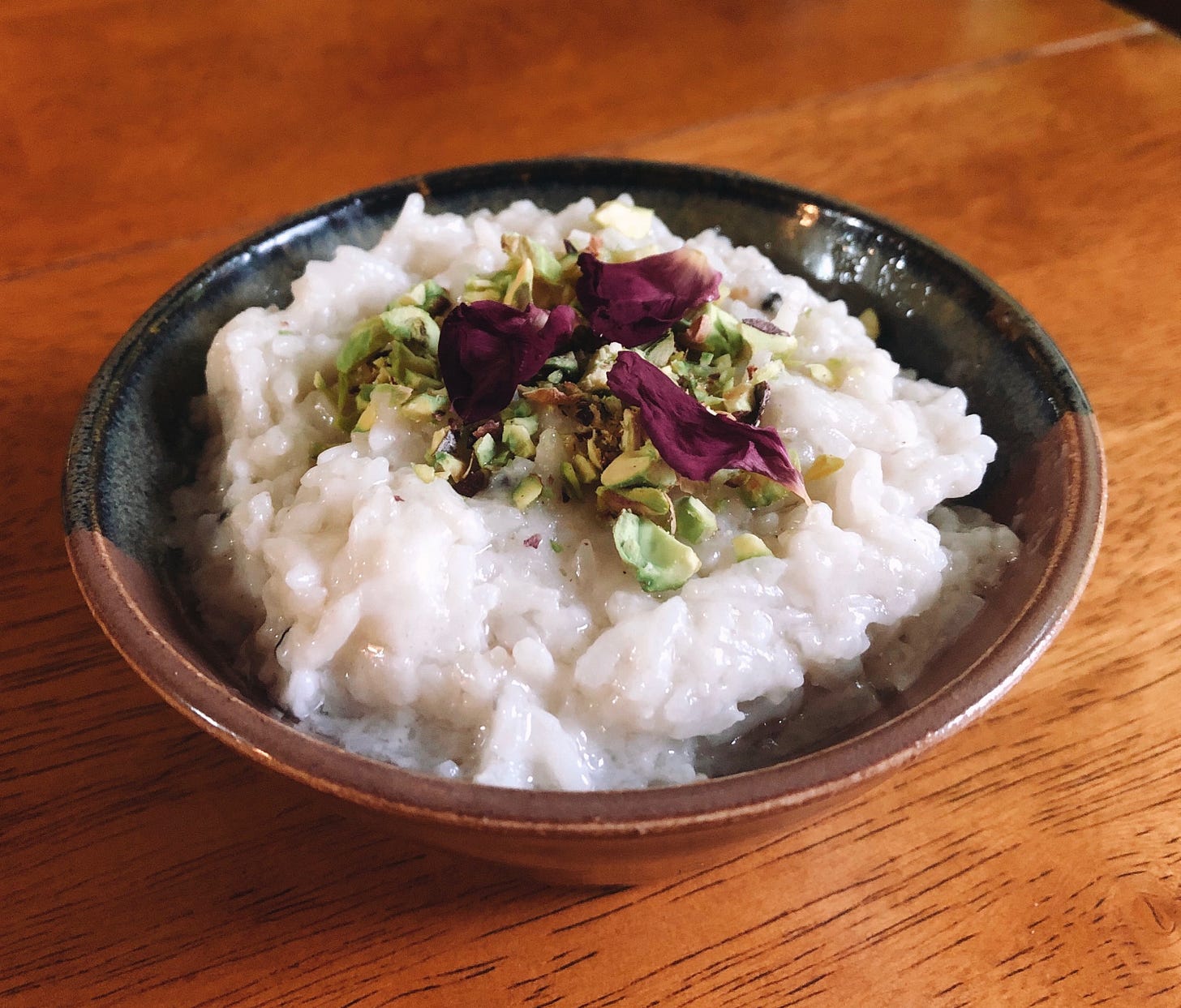 the full recipe for this can be found on my blog through the link!
~sa7tein~